Discussion Starter
•
#1
•
I have a 1969 Ford 4000 and is a CAT I/II. The Lift arms that came with the tractor seem like they are original and are rated CAT I/II with easy connect slide ends. But some one had a idea they should be welded and now they no slide and no easy connect to attachments.
If you ever had to connect a CAT 2 implement you know the importance of easy connect. I have a hard time twisting my head backwards or even looking over my shoulders and even though my kids think i have eyes in the back of my head I don't, so when i back up I make it count.
Has any one ever grind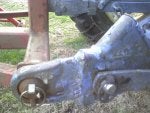 a weld off and repaired something like this?
Has anyone ever worked on this kind of arm before?
All help is appreciated.