Discussion Starter
·
#1
·
Hi, I have a 1965 Ford Industrial 3400 with loader. I have the older model power steering which has a separate reservoir behind the radiator. I lost the PS when I pulled plug #13......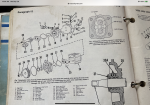 long story... was not aware that they had two separate PS setups. Replaced it and the spring and no more PS.
I bought the Oring kit but based on the tight location of the pump, I'm better off replacing the pump.
1.) Where do you find replacement pumps for the old set up?
2.) Has anyone converted from the old separate reservoir and pump to the newer pump with integrated reservoir? Recommendations?
3.) The lines from the pump to steering wheel are original and pretty crusty. I can easily see them failing when I remove the pump. Does anyone know where to find replacements. If so, where?
At this point the machine is winning and I have a couple rounds in me before it leaves the farm. Any and all help, suggestion, advice is greatly appreciated.