Discussion Starter
·
#1
·
Working on swapping a 23HP Briggs Intek V-Twin onto a Hustler Raptor. Briggs is replacing a Kawasaki FR691V (ventilated crankcase). Kawasaki ran separate choke and throttle cables. Briggs runs Choke-o-Matic (one cable). I hate that damn Briggs Choke-o-Matic set up. What genius engineer thought it was a good idea for a 23HP, V-Twin, pressure lubricated engine to have to be positioned at wide open throttle before you can crank with the choke applied?
I've figured out a way to eliminate the single cable Choke-o-Matic set up and use the separate choke and throttle cables, so I thought I would share. The trick is already on the intake manifold. There are two plastic molded ears that stick down off the bottom of the intake manifold to mount a separate choke linkage. That separate choke linkage is Briggs # 691021 and is less than $10. Once that little choke plate is mounted it looks like this (the photo is upside down to the way it actually mounts on the engine)….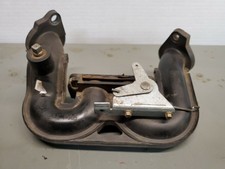 The extra hole at the end of the plate is to mount the "cable clip" to hold the separate choke cable shroud. You can then run the throttle cable to the normal cam-style linkage on the Briggs speed control plate. You can run the throttle cable to either the left, or right side of the block, it's just a matter of selecting the hole on the cam plate. Separate choke and throttle cables and not forced to start at wide open throttle to get choke
.
There you go Briggs…. Take that Choke-o-Matic set up and shove it. Poor management is not the only thing that led to your Chapter 11. When you go to re-org, get rid of that desk the Bright Idea Fairy has set up in your Engineering Department and you might sell more engines
.